(Last updated Sunday, August 27th, 2017.)

If you missed the ten-year reunion, one year late, you missed a hell of a good time. Plan to be there next time -- Mike's threatening to do one every year.
Contact list. (Removed)
Email discussion list. (Deactivated.)
Web-based message board. (Deactivated.)
Tara's survey responses (not coming any time soon!).
This isn't and won't be a very fancy site. Right now it's just a place for pictures of the reunion in 2002, and to facilitate keeping in touch -- including arranging future reunions. If you have any suggestions, please let me know.

So far I've only received pictures from Brian and Will. There's the group shot below and a few more at the links above. This page will evolve over time so that, when I receive and post new pictures, you'll be able to find them quickly.

If you want to send me (Craig) pictures or just yak at me, please use my contact form if you don't already have my email address. Thanks.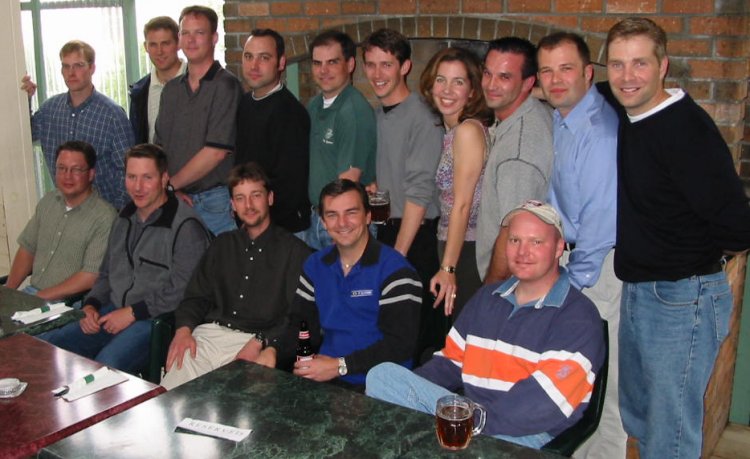 Standing, left to right: Stuart McF., Steve, Jon, Sheldon, Dan, Piper, Tara, Pete E., Mike J., Colin.
Seated, left to right: Nigel, Tim, Trev, Brian, Will.
Missing (showed up later): Angela, Craig.
Missing (never showed up): Eric, Stuart B., Scott, Ken, Jordie, Ian (where's that $99 you owe me?!), Kevin, Dave (x2), Pete P., Mike S., Grant, Glenn.


Links:
Updates:
August 27, 2017:

Updated links.
Added link to cdnair.ca.
Removed contact form.
Moved to a new server.
Even if there was a point in getting the survey answers up fifteen years after the fact, the world has changed since then and putting up such personal data is now heavily frowned upon.

August 19, 2008:
February 27, 2006:

Moved the site to cpa91.salace.com.

June 13, 2003:

Due to a move to a new server, the email discussion list and the Web-based message board have been deactivated. Since they were never actually used I don't plan to reinstall them.
Additionally, due to the death of my wife a couple of weeks after the last update, I have been up to my eyeballs, some of it related to her estate. (Here's a tip for you -- make a will.) Getting the survey answers on-line is not, unfortunately, a priority for me right now, but I will do them when I can.

January 21, 2003:

Added a contact form so that class members can be contacted through the Web.
Revised the text on the home page.

January 20, 2003:

Added some links to other sites. Let me know if you want your site added here or have suggestions to add other sites.
Reduced the size of the font on the home page and changed the formatting.

January 13, 2003:

Thanks to Mike J., I have filled in all the names I did not know on 18 of the pictures. If you have some good pictures from last May, please send them to me.
Now I'm going to work on putting up the survey responses that Mike sent me two weeks ago. Oh God, this looks like work!

September 4, 2002:

Added the Web-based message board. Dave M. is running it, so sign up and let's keep in touch. To keep it private, you do need to sign up to post messages. This is quite a bit more user-friendly than the email discussion list, but I'll keep the email list going in case anybody prefers that format.

July 13, 2002:

Finally got around to adding Will's 37 pictures.
There are several people in some of the pictures (from both Brian and Will) whose names I don't remember. Sorry -- blame it on beer, old age, poor hearing or whatever you like. Please contact me and let me have the names if you know them. Thanks.
Also, there were more than just two cameras there that day. Cough up the pictures, please.

June 29, 2002:

Added the updates section.
Put captions on all of Brian's pictures.
Linked to my contact form so that you can email me if you don't have my email address.
I'll put Will's pictures up real soon, I promise. :)

June 19th, 2002:

Set up the discussion list.